There are always a zillion things circulating around the internet everyday. It can be crazy to keep up with it all but I love finding new articles, videos, photos, products, and songs throughout the week. This segment is where I share new things that wow me every week!
s
1.
Starbucks to pay for college degrees:
As if Starbucks isn't already cool enough, now they'll partially pay for you to get a college degree while working as one of their employees! I think it's amazing their not only promoting their employees to further their education but also chipping in financially to help them achieve it. Starbucks never ceases to amaze me.
2.
2014-2015 Lilly Pulitzer Planners
: This may not be news to some people considering these planners were announced a couple weeks ago but if you haven't heard about them yet, then now you know! I ordered
this one
, the second I got the email from Lilly that they were now available for pre order! I seriously can't wait to get it. I got a Lilly planner last year too, and used it everyday for school. I'm not a huge Lilly fan but I do lovvee their planners. If you've already pre ordered one they are suppose to ship this Monday the 23rd (eeek!) I am impatiently waiting for mine to come. I've already called Lilly twice asking when they are suppose to ship and how long it will take to get to me. #sorrynotsorry
3.
Art history video
: If you or someone you know is interested at all in art history, they have to watch this video. When I took AP Art History last year, my teacher showed us this on the first day of school. It made no sense to me then because I didn't know anything about art at the time. But on the last day of school, It truly made me tear up when she showed it to us again because I recognized almost every work in the video and could answer most of the questions too. It's incredible and so well done, with some amazing questions. If you are an art lover like me it will make you get the goosebumps, guaranteed.
4.
Celine Purses:
I love the style of Celine purses, but not so much their price. I found look a like ones on Amazon for only $35!!
They also offer a larger style as well
! #score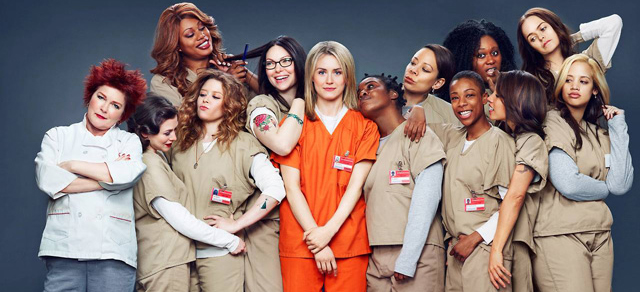 5.
Orange is the New Black series:
Since this show started it's gotten nothing but rave reviews. I've seen it been written about in magazines, newspapers, blogs, and everywhere in between. After finishing The Office on Netflix (and crying profusely through the last episode), I needed to find a new series to watch on Netflix. So after hearing about Orange is the new for the 10 thousandth time, I decided to give it a shot. I won't lie, 5 min. into the first episode I was blown away (not in a good way) and I didn't get what all the hype was about. It wasn't at all what I expected, but now I'm on the 10th episode, and I'm hooked.
Do you like this new segment?
What new things wowed you this week?